The Mandalorian Latex Headgear Costume Prop Halloween Supplies
Regular price
$25.99
Sale price
$15.99
Unit price
per
Sale
Sold out
Material: Made of latex, it's non-toxic and environmentally friendly.

Healthy & Eco Friendly: Spray painted with water paint, non-toxic, no irritating smell and eco-friendly

Size: Fit for head circumference: about 22.8-24.4", fits most adult men, women, teen boy and girl's head size. If you are not sure about your size, please make reference to the way of our measurement.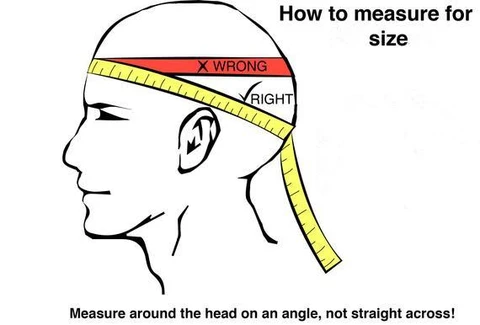 HOW TO WASH AND MAINTAIN?

Hand washes and keep it in a cool dry place, avoid direct sunlight.
NOTICE: Do not use if you are allergic to latex!
Share
Shipping Policy

 Thank you for visiting and shopping at prosparty.com. Following are the terms and conditions that constitute our Shipping Policy.

Domestic Shipping Policy

Shipment processing time

All orders are processed within 2-3 business days(Monday to Friday). Orders are not shipped or delivered on weekends or holidays.

If we are experiencing a high volume of orders, shipments may be delayed by a few days. Please allow additional days in transit for delivery. If there will be a significant delay in shipment of your order, we will contact you via email or telephone.


Shipping charges for your order will be calculated and displayed at checkout.
Shipping rates & delivery estimates

Shipping to Australia, Canada, France, Germany, United Kingdom, United States

| | | |
| --- | --- | --- |
| Expedited Shipping ( Receiving 2-6 Business Days) | 0kg–0.5kg | $29.99 |
| Expedited Shipping ( Receiving 2-6 Business Days) | 0.5kg–1kg | $35.99 |
| Expedited Shipping ( Receiving 2-6 Business Days) | 1kg–1.5kg | $39.99 |
| Expedited Shipping ( Receiving 2-6 Business Days) | 1.5kg-2kg | $45.99 |
| Expedited Shipping ( Receiving 2-6 Business Days) | 2kg-2.5kg | $55.99 |
| Expedited Shipping ( Receiving 2-6 Business Days) | 2.5kg-3kg | $59.99 |
| Standard Shipping (Receiving 15-20 Business Days) | 0kg–0.05kg | $6.99 |
| Standard Shipping (Receiving 15-20 Business Days) | $29.00 and up | Free |
| Standard Shipping (Receiving 15-20 Business Days) | 0.05kg–0.2kg | $8.99 |
| Standard Shipping (Receiving 15-20 Business Days) | 0.2kg–0.3kg | $9.99 |
| Standard Shipping (Receiving 15-20 Business Days) | 0.3kg–0.4kg | $10.99 |
| Standard Shipping (Receiving 15-20 Business Days) | 0.4kg–0.45kg | $11.99 |
| Standard Shipping (Receiving 15-20 Business Days) | 0.45kg–0.5kg | $12.99 |
| Standard Shipping (Receiving 15-20 Business Days) | 0.5kg–0.55kg | $14.99 |
| Standard Shipping (Receiving 15-20 Business Days) | 0.55kg–0.6kg | $15.99 |
| Standard Shipping (Receiving 15-20 Business Days) | 0.6kg–0.65kg | $16.99 |
| Standard Shipping (Receiving 15-20 Business Days) | 0.65kg–0.7kg | $17.99 |
| Standard Shipping (Receiving 15-20 Business Days) | 0.7kg–0.75kg | $18.99 |
| Standard Shipping (Receiving 15-20 Business Days) | 0.75kg–0.8kg | $19.99 |
| Standard Shipping (Receiving 15-20 Business Days) | 0.8kg–0.85kg | $20.99 |
| Standard Shipping (Receiving 15-20 Business Days) | 0.85kg–0.9kg | $21.99 |
| Standard Shipping (Receiving 15-20 Business Days) | 0.9kg–0.95kg | $22.99 |
| Standard Shipping (Receiving 15-20 Business Days) | 0.95kg–1kg | $23.99 |

Shipping to Rest of world

| | | |
| --- | --- | --- |
| Expedited Shipping ( Receiving 2-6 Business Days) | 0kg–0.5kg | $29.99 |
| Expedited Shipping ( Receiving 2-6 Business Days) | 0.5kg–1kg | $35.99 |
| Expedited Shipping ( Receiving 2-6 Business Days) | 1kg–1.5kg | $39.99 |
| Expedited Shipping ( Receiving 2-6 Business Days) | 1.5kg-2kg | $45.99 |
| Expedited Shipping ( Receiving 2-6 Business Days) | 2kg-2.5kg | $55.99 |
| Expedited Shipping ( Receiving 2-6 Business Days) | 2.5kg-3kg | $59.99 |
| Standard Shipping (Receiving 15-20 Business Days) | $29.00 and up | Free |
| Standard Shipping (Receiving 15-20 Business Days) | 0kg–0.05kg | $6.99 |
| Standard Shipping (Receiving 15-20 Business Days) | 0.05kg–0.2kg | $8.99 |
| Standard Shipping (Receiving 15-20 Business Days) | 0.2kg–0.3kg | $9.99 |
| Standard Shipping (Receiving 15-20 Business Days) | 0.3kg–0.4kg | $10.99 |
| Standard Shipping (Receiving 15-20 Business Days) | 0.4kg–0.45kg | $11.99 |
| Standard Shipping (Receiving 15-20 Business Days) | 0.45kg–0.5kg | $12.99 |
| Standard Shipping (Receiving 15-20 Business Days) | 0.5kg–0.55kg | $14.99 |
| Standard Shipping (Receiving 15-20 Business Days) | 0.55kg–0.6kg | $15.99 |
| Standard Shipping (Receiving 15-20 Business Days) | 0.6kg–0.65kg | $16.99 |
| Standard Shipping (Receiving 15-20 Business Days) | 0.65kg–0.7kg | $17.99 |
| Standard Shipping (Receiving 15-20 Business Days) | 0.7kg–0.75kg | $18.99 |
| Standard Shipping (Receiving 15-20 Business Days) | 0.75kg–0.8kg | $19.99 |
| Standard Shipping (Receiving 15-20 Business Days) | 0.8kg–0.85kg | $20.99 |
| Standard Shipping (Receiving 15-20 Business Days) | 0.85kg–0.9kg | $21.99 |
| Standard Shipping (Receiving 15-20 Business Days) | 0.9kg–0.95kg | $22.99 |
| Standard Shipping (Receiving 15-20 Business Days) | 0.95kg–1kg | $23.99 |

 

Special Products

Products include batteries, liquid, pasty fluid, powder, or 

weak

magnetism

1.1. Shipping to Australia, Canada, France, Germany, United Kingdom, United States

| | | |
| --- | --- | --- |
| Standard Shipping (Receiving 15-20 Business Days) | $29.00 and up | FREE |
| Standard Shipping (Receiving 15-20 Business Days) | 0kg–0.1kg | $6.99 |
| Standard Shipping (Receiving 15-20 Business Days) | 0.1kg–0.2kg | $8.99 |
| Standard Shipping (Receiving 15-20 Business Days) | 0.2kg–0.3kg | $12.99 |
| Standard Shipping (Receiving 15-20 Business Days) | 0.3kg–0.4kg | $15.99 |
| Standard Shipping (Receiving 15-20 Business Days) | 0.4kg–0.5kg | $16.99 |
| Standard Shipping (Receiving 15-20 Business Days) | 0.5kg–0.6kg | $18.99 |
| Standard Shipping (Receiving 15-20 Business Days) | 0.6kg–0.7kg | $19.99 |
| Standard Shipping (Receiving 15-20 Business Days) | 0.7kg–0.8kg | $21.99 |
| Standard Shipping (Receiving 15-20 Business Days) | 0.8kg–0.9kg | $22.99 |
| Standard Shipping (Receiving 15-20 Business Days) | 0.9kg–1kg | $25.99 |


1.2. Shipping to Rest of world

| | | |
| --- | --- | --- |
| Standard Shipping (Receiving 15-20 Business Days) | $29.00 and up | FREE |
| Standard Shipping (Receiving 15-20 Business Days) | 0kg–0.1kg | $6.99 |
| Standard Shipping (Receiving 15-20 Business Days) | 0.1kg–0.2kg | $8.99 |
| Standard Shipping (Receiving 15-20 Business Days) | 0.2kg–0.3kg | $12.99 |
| Standard Shipping (Receiving 15-20 Business Days) | 0.3kg–0.4kg | $15.99 |
| Standard Shipping (Receiving 15-20 Business Days) | 0.4kg–0.5kg | $16.99 |
| Standard Shipping (Receiving 15-20 Business Days) | 0.5kg–0.6kg | $18.99 |
| Standard Shipping (Receiving 15-20 Business Days) | 0.6kg–0.7kg | $19.99 |
| Standard Shipping (Receiving 15-20 Business Days) | 0.7kg–0.8kg | $21.99 |
| Standard Shipping (Receiving 15-20 Business Days) | 0.8kg–0.9kg | $22.99 |
| Standard Shipping (Receiving 15-20 Business Days) | 0.9kg–1kg | $25.99 |

 

Pre-order products

The production time is expected to take 15-20 days. After the production is over ,We'll process the order and ship it out as soon as possible.

2.1. Shipping to Australia, Canada, France, Germany, United Kingdom, United States

| | | |
| --- | --- | --- |
| Standard Shipping (Receiving 20-50 Business Days) | 0kg–0.05kg | $6.99 |
| Standard Shipping (Receiving 20-50 Business Days) | $29.00 and up | Free |
| Standard Shipping (Receiving 20-50 Business Days) | 0.05kg–0.2kg | $8.99 |
| Standard Shipping (Receiving 20-50 Business Days) | 0.2kg–0.3kg | $9.99 |
| Standard Shipping (Receiving 20-50 Business Days) | 0.3kg–0.4kg | $10.99 |
| Standard Shipping (Receiving 20-50 Business Days) | 0.4kg–0.45kg | $11.99 |
| Standard Shipping (Receiving 20-50 Business Days) | 0.45kg–0.5kg | $12.99 |
| Standard Shipping (Receiving 20-50 Business Days) | 0.5kg–0.55kg | $14.99 |


2.2. Shipping to Rest of world

| | | |
| --- | --- | --- |
| Standard Shipping (Receiving 20-50 Business Days) | $29.00 and up | Free |
| Standard Shipping (Receiving 20-50 Business Days) | 0kg–0.05kg | $6.99 |
| Standard Shipping (Receiving 20-50 Business Days) | 0.05kg–0.2kg | $8.99 |
| Standard Shipping (Receiving 20-50 Business Days) | 0.2kg–0.3kg | $9.99 |
| Standard Shipping (Receiving 20-50 Business Days) | 0.3kg–0.4kg | $10.99 |
| Standard Shipping (Receiving 20-50 Business Days) | 0.4kg–0.45kg | $11.99 |
| Standard Shipping (Receiving 20-50 Business Days) | 0.45kg–0.5kg | $12.99 |
| Standard Shipping (Receiving 20-50 Business Days) | 0.5kg–0.55kg | $14.99 |


You will receive a Shipment Confirmation email once your order has shipped containing your tracking number(s). The tracking number will be active within 24 hours. 

Shipment confirmation & Order tracking

Damages

Prosparty.com is not liable for any products damaged or lost during shipping. If you received your order damaged, please contact the shipment carrier to file a claim.

Please save all packaging materials and damaged goods before filing a claim.

THE SHIPPING METHODS: USPS, FedEx, DHL,EMS

HOW DO I TRACK MY ORDER?

Once your package ships, we will send an email with a link to track your order. You can also track your order with the tracking number at here:http://www.17track.net/

Shipping conveyance provided by the ships belonging to one country or industry More (Definitions, Synonyms, Translation)
Contact Us

Email: prosparty@udslife.zendesk.com

Our China Office Address:
Room 415, No. 2, Xugongqiao Road, Huaqiao Town, Kunshan City,
Jiangsu Province, China

Tel: (+86) 18112646635
Return / Exchange Policy

If, for any reason, You are not completely satisfied with a purchase We invite You to review our policy on refunds and returns. The following terms are applicable for any products that You purchased by Us.

Order Modifications or Cancellation
After your order has been placed, you have 24 hours to contact our customer service and request order modifications or a cancellation. After 24 hours, your order has already been placed in production and can no longer be modified.

Note: Credit card companies vary on the time it takes for credits to appear on their customers' records, so please allow one or two billing cycles for the refund to appear on your statement. 

Damaged/Incorrect Order
At prosparty.com, we are doing our best to ensure product quality and order accuracy. However,  it may happen that you receive a damaged item, poor-quality printing or incorrect product. Thankfully, it is rather unusual! But, if it is the case, we guarantee a 100% satisfaction to all of our customers by offering a free replacement order or a refund on the affected items.

All we need is your order number and a clear photo showing either the incorrect item, the poor quality of the print or the damaged area of the item. Please contact us by email at prosparty@udslife.zendesk.com and one of our helpful support staff will organize a reprint or a refund for you!

Order not received
If your item has not arrived within 30 days for apparel products and 45 days for pillow covers, shoes, bedding after having ordered, contact one of our heroes through our Contact Us page for a free replacement order or a full refund of your purchase.  (Please note this policy excludes errors made by customers when providing incorrect shipping details on their order(s) and/or missed parcel deliveries.)

Returns

We only accept returns within 15 days after the customer receives the order.
Items returned must be in their unused condition with the original packing.

 

We do not accept a returned item that's used, damaged, or altered in any way. 

Send us an email to

prosparty@udslife.zendesk.com

 

to contact our after-sales customer service. All returns must first be approved by our customer service team. We do not accept items returned directly without our approval.
After obtaining the return approval, please send the package within 5 days.Choose the postal service to send back your return package. (Please kindly use a postal service that is trackable. In the event of package loss or package damage during transit, we will not be responsible in such cases.

 

If you are shipping an item over $75, you should consider purchasing shipping insurance. We don't guarantee that we will receive your returned item

.)

Please do not send your return to the address on your package. Our customer service will provide the return address.

Return Shipping Fee


The customer will be responsible for paying the shipping costs for the returned items. 

Method of Refund


The refund is the price of the product, and the shipping fee is non-refundable. After receiving and checking the returned package, we will process the refund within 7 working days. Refund will automatically be applied to your credit card or original method of payment within 7 working days.   

 

Contact Us

If you have any questions about our Returns and Refunds Policy, please contact us:

By email:

prosparty

@udslife.zendesk.com

By visiting this page on our website: https://www.prosparty.com/
By phone number: (+86)18112646635